THE KIBBLE WITH THE FRESHEST INGREDIENTS 1
THE KIBBLE WITH THE FRESHEST INGREDIENTS 1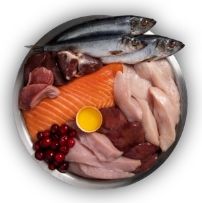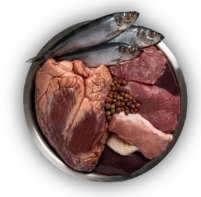 WHY DO FRESH
INGREDIENTS MATTER?
Our research shows use of fresh or raw animal ingredients in kibble results in high protein digestibility in dogs. That's why we include plenty of fresh or raw animal ingredients in our diets, because we believe the power of ingredient-based nutrients helps your dog & cat truly thrive. Compare our first 5 ingredients to other brands and discover the ORIJEN difference
Compare Recipes
BIOLOGICALLY
APPROPRIATE NUTRITION
Inspired by your pet's ancestral diet, ORIJEN food is packed with animal ingredients that reflect the freshness, variety and quantity that nature and evolution intended dogs and cats to eat. Unlike many pet foods, ORIJEN kibble never exceeds 25% of calories from carbohydrates. NO ROOM FOR FILLERS
No wheat, corn, rice, tapioca, plant
protein isolates, or concentrates.
NOURISHING
WHOLEPREY INGREDIENTS
Inspired by your ancestral diet, ORIJEN foods are packed with WholePrey ingredients like succulent meat, poultry or fish and nutrient-rich organs. Your dog and cat love the taste of these nourishing ingredients, and they contain nutrients that help support key health benefits.
UNLEASH THEIR AMAZING POTENTIAL TO THRIVE
Nourish your pet for a lifetime of adventures with a food as amazing as they are. As the pinnacle of Biologically Appropriate nutrition, once you and your pet see the amazing ORIJEN difference, you won't go back!
1
First 5 ingredients start out Fresh/Raw; compared to top 20 dog and cat kibble in 2022 US Pet Retail, Nielsen. |
2
Derived from the unprocessed state of the ingredients. |
3
Approximate up to 90% | Our included fresh ingredients use refrigeration as the sole method of preservation and our included raw ingredients are frozen at their peak freshness. | Ingredients depicted in fresh form before processing. Proportions and quantities not representative of contents of one package or serving. Cuts and varieties may vary. See ingredient list.